Ink database
Identification of residues of improvised explosives using physico-chemical analytical methods under real conditions
Autentization
Project documentation
Mind map (WIKI)

Entity Relationship Diagram of database (WIKI)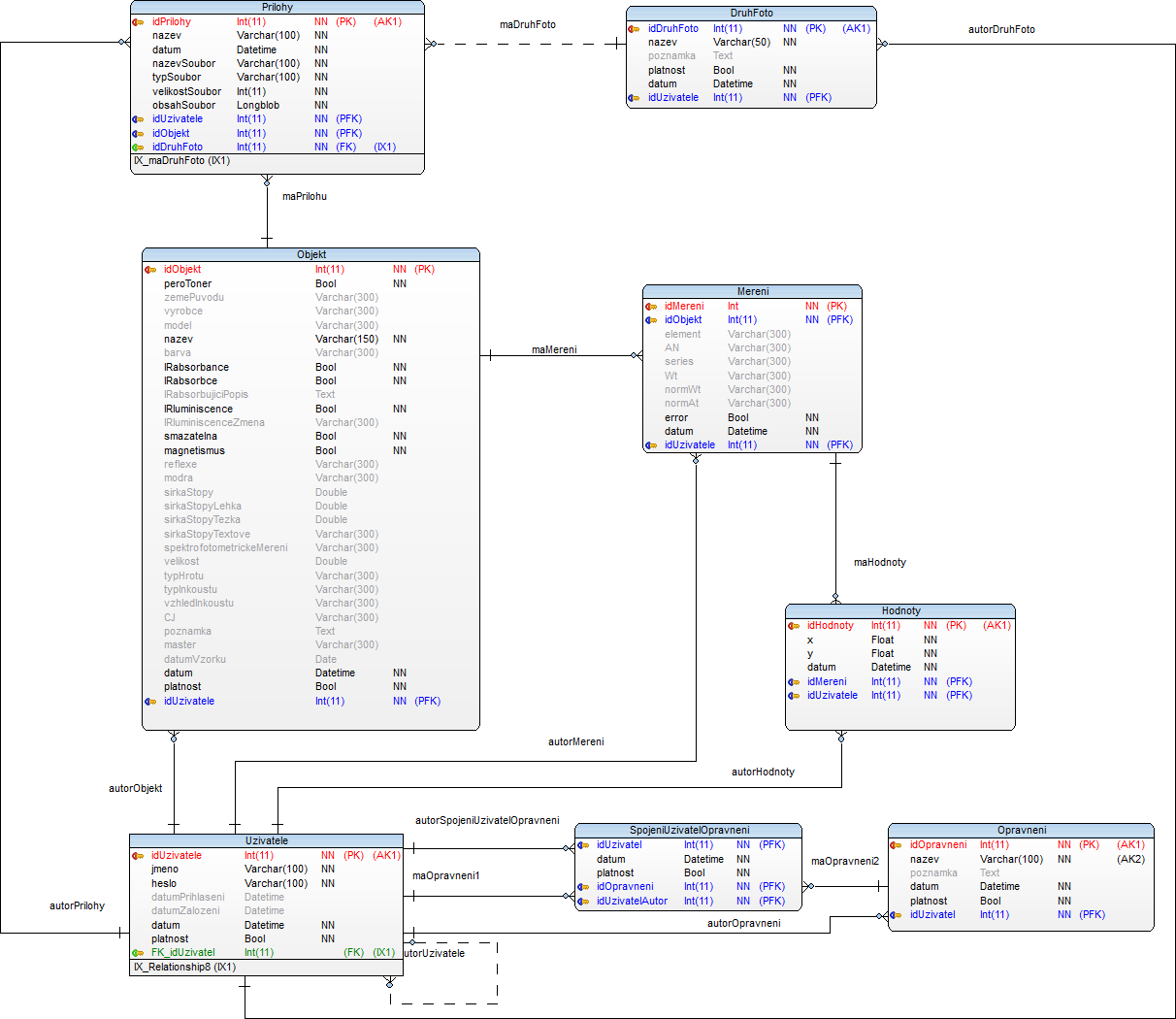 Report of database
Literature
Cho, Y.C., Ahn, S.I. Fabricating a Raman spectrometer using an optical pickup unit and pul-sed power. Sci Rep 10, 11692, 2020.
Nunkoo M., Saib-Sunassy M., Li Kam, Wah H., Laulloo J. S.: Forensic Analysis of Black, Blue, Red, and Green Ballpoint Pen Inks.In P. Ramasami et al.: Crystallizing Ideas – The Role of Chemistry, Springer, Switzerland, 2016.
Almeida C., Sales D., Tosato F., Santos N., Filho J., Macrino C., Pinto F., Filgueiras P., Wanderson R.L.: Study of chemical profile and of lines crossing using blue and black ink pens by LDI (+) MS and LDI (+) imaging. Microchemical Journal. 148, 2019.
Putri N. A., Umi K. A., Ezlan E.,Muhd F. S., Mohamed I.A.:Trends of Forensic Analysis of Pen Ink Using Attenuated Total Reflectance Fourier Transform Infrared (ATR-FTIR) Spectroscopy. Indones. J. Ch em., 22 (4), 1144 - 1154, 2022.
Fikiet M., Khandasammy S., Mistek-Morabito E., Ahmed Y., Halamkova L., Bueno J., Lednev I.:Forensics: evidence examination via Raman spectroscopy. Physical Sciences Reviews, 4, 10, 2018.
Hammond D. L.: Overview of Forensic Document Examination, In: Siegel, J. A. and Saukko, P. J. (Eds.), Encyclopedia of Forensic Sciences (2nd ed.), pp. 391-394, Elsevier Ltd., 2013.
Wang Y, Townsend P.D.:Potential problems in collection and data processing of luminiscence signals. Journal of Luminiscence, 142, 202-211, 2013.
Llovet X., Moy A., Pinard P., Fournelle J.: Electron probe microanalysis: A review of recent developments and applications in materials science and engineering. Progress in Materials Science, 116. p. 1-90, 2020.
Kotrlý M., Uher J., Turková I.: Application of Quantitative and Qualitative Mapping of Materials in Forensic Practice. Microsc. Microanal. 28 (Suppl 1), pp. 630-631, ISSN: 1431-9276 (Print), 1435-8115 (Online), 2022.
project VI20152020035 - Introduction of a complex SEM analysis system - automatic analysis of soil phases and Raman spectroscopy into the practice of the Expert service of the Czech Republic

Licensee:
Ministerstvo vnitra,
Policie České republiky,
Kriminalistický ústav,
p.schr. 62/KUP, Strojnická 27, 170 89 Praha 7
IČO: 00007064 DIČ: CZ00007064
web: http://www.policie.cz/kriminalisticky-ustav-praha.aspx email: ku@pcr.cz
Like most sites on the Internet, we use on the website
cookies
. In accordance with the EU Regulation we will inform about this. Your continued use of this agree.