Autentization
Project documentation
Mind map (WIKI)

Entity Relationship Diagram of database (WIKI)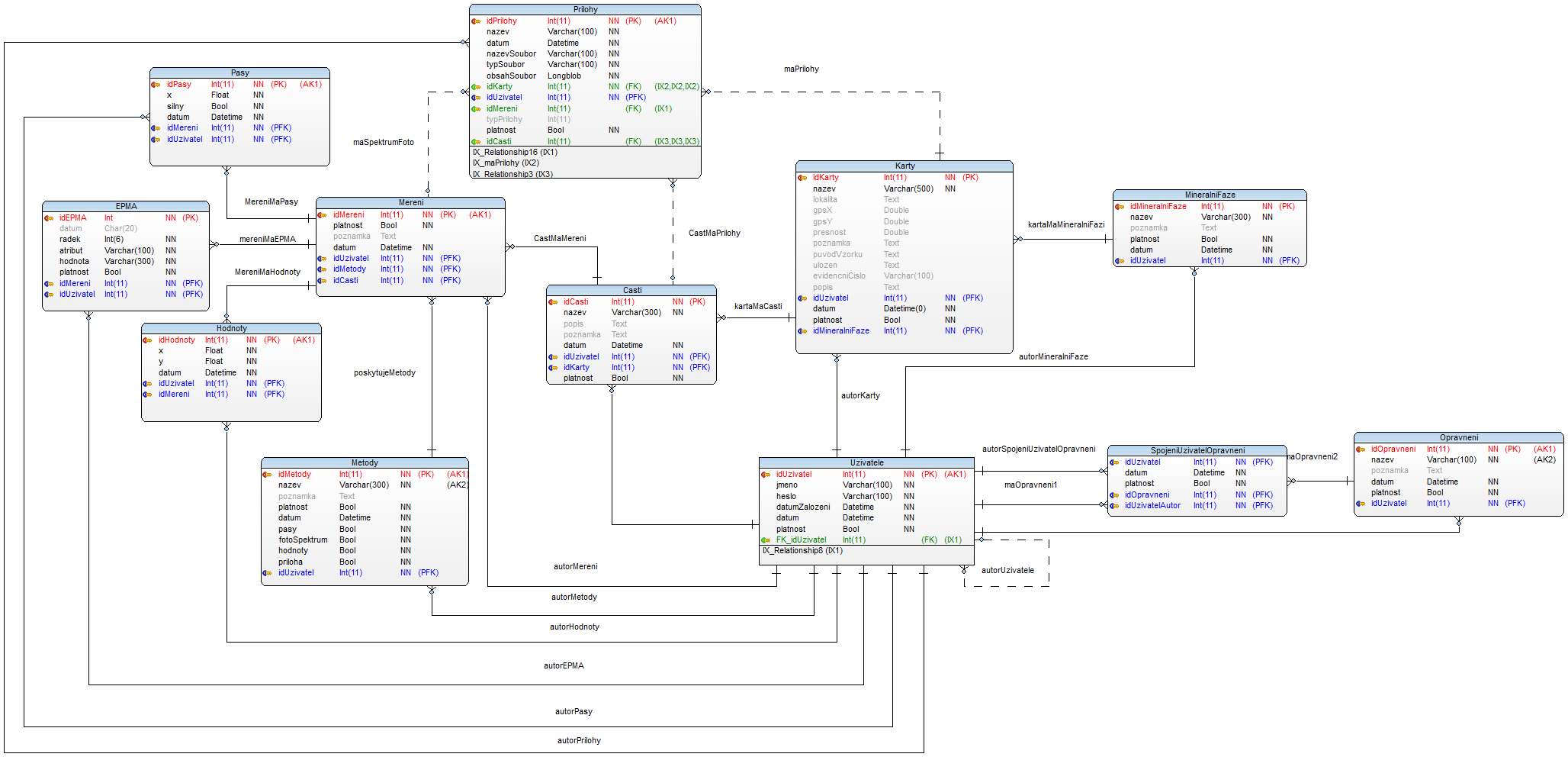 Report of database
Literature
Xu Wei Vittal, Jadagese J., Puddephatt Richard J.: Inorganic Inclusion Chemistry: A Novel Anion Inclusion System. Journal Of The American Chemical Society, 117, 32, 1995.
Hutchison M.T., Hursthouse M., Light M.E.: Mineral inclusions in diamonds. Beiträage zur Mineralogie und Petrographie, 142, 10, 119-126,2001.
Vu D. T. A., Salam A., Fanka A., Belousova E., Sutthirat Ch.: Mineral inclusions in sapphire from basaltic terranes in Southern Vietnam. GEMS & GEMOLOGY, Winter 2020, 498 - 515. 2020.
Myšľan P., Ružička P., Mikuš T., Hain M.: 3D distribution of mineral inclusions in garnets from the localities Lesné - Potičky and Beňatinská voda (Slovak Republic). Bulletin Mineralogie Petrologie, 28, 2, 246-260, 2020.
Dyda M., Ružička P., Hain M.: Crystal size distribution (CSD) of titanite inclusions in grossular from a calcsilicate rock in the Malé Karpaty Mts. Slovakia. Miner Slov, 49, 2, 113-123, 2017.
Lindsley D.H.: Experimental studies of oxide minerals. In D.H. Lindsley, Ed., Oxide Minerals: Petrologic and Magnetic Significance. Reviews in Mineralogy, 25, 69–106, 1991.
Pagel M. et al.: Cathodoluminescence in Geosciences. Springer, Berlin, 2000.
Perchuk A.: Mineral inclusions in garnet crystals. EGU General Assembly Conference Abstracts, 882, 2010.
Motyleva S. M., Gins M. S., Gins V. K., et al.: SEM and EDX analyses for mineral inclusions in the leaves. AIP Conference Proceedings 2068, 020018, 2019.
Gübelin E. J., Koivula J. I.: Photoatlas of Inclusions in Gemstones, Volume 3. Opinio Publishers, Basel, Switzerland, 672p., 2005.
Roedder E.: Composition of fluid inclusions. US Geological Survey Professional Paper, No. 440JJ, 164 pp., 1972.
project VI20192022148 - Complex instrumental protocol for the characterization of selected mineral phases with a link to specific geographic origin
The application is designed for laboratories within the Forensic Service Police of the Czech Republic, cooperating institutions and partners in international cooperation.

Licensee:
Ministerstvo vnitra,
Policie České republiky,
Kriminalistický ústav,
p.schr. 62/KUP, Strojnická 27, 170 89 Praha 7
IČO: 00007064 DIČ: CZ00007064
web: http://www.policie.cz/kriminalisticky-ustav-praha.aspx email: ku@pcr.cz
Like most sites on the Internet, we use on the website
cookies
. In accordance with the EU Regulation we will inform about this. Your continued use of this agree.